Students! Did you do your profile survey? Check your email for a chance to win a £20 voucher and tell us what you think now!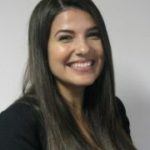 For me it was such a great surprise to be chosen the winner of the Smart Data Zone! I had competitors who are also my colleagues and I was sure one of them would win. Guess I was wrong! =)
I want to thank all the students who took their time to come and ask us loads of interesting questions, from 'is there life in other planets?', and 'how do cats purr?' to 'will robots take over the world?'! I loved answering all of them, not only the ones related to my field but also the ones I had absolutely no idea how to answer! It's fair to say that I've learned a lot with the research I had to do to be able to answer some questions! So, thank you students for this opportunity of learning new things!
I would like to thank the I'm a Scientist team who made the chats so dynamic and enjoyable for all of us! It was a big challenge! I also would like to thank my research group, The ADAPT Centre in Dublin City University. They are always finding ways for us to be involved in various science outreach programmes and the I'm a Scientist chats was one of them! When I signed in for this, I didn't even know there was a prize! I just wanted to talk to students and see 'what the craic was'! What a big surprise when I learned there was 'evictions' going on! I was so nervous!
I am very happy now that I get to run a 'Girls in STEM day' with the prize. I think girls are really underrepresented and we need to motivate more of us to be involved with science and technology. And this is one of the goals in my career: to show girls that, yes, they can build robots, machine translation systems, computers, cars, or anything if they want to! And don't let anyone tell them that this is 'a boy's thing'! And mostly, show them that together we are stronger and we can do more!
Finally, I want to thank the teachers who signed up their classes for the chats. You guys are the ones who will encourage students to be whatever they want to be and for that you have my complete admiration and respect. I would encourage more teachers to sign up next year in Ireland and, of course, I'd recommend more scientists to sign up for the project! We need more scientists in the chats because kids are unstoppable when they start with their questions! Besides, you'll have a great time!
Scientists! If you'd like the chance to win funding for your own public engagement work, apply for the next I'm a Scientist, Get me out of here: imascientist.ie/scientist-apply